How do I know if I need well service or water pump service?
If you are out of water, have low water pressure, dirty water, water is surging, or you experience spits of air coming from your faucet this is an indication that you have trouble with either the water well pump or the water tank.
Call the Professionals First When well owners try to service their own wells, they usually fail to solve the problem or make it worse. Qualified professional water well system contractors, like Kocher use specialized equipment, materials, and techniques to keep well systems operational and water supplies safe.
What could be wrong with my well or pump?
If you are out of water it could be a number of things…….First thing to do is check the well or water pump breaker in the electrical breaker box. If that is ok then you need to check the pressure gauge on the water (well) tank to see if that is reading any pressure. If the pressure gauge reads over 40 psi it could possibly be a filter is blocked or needs to be changed (if you have one) or the pressure gauge is broken. Frequently we see broken pressure gauges or gauges that get stuck. Another possibility is a broken wire going to the pump or the pump is bad and needs to be replaced. These are a few of the most commons things found by our technicians.
How much does water well service and pump replacement usually cost?
Service rates vary depending on what kind of problem you have and whether you need a whole new well pump or let's just say a new pressure gauge. We charge a $75.00 service call and then an hourly rate for any work done by our technicians once at the job plus the cost of any materials used. There is a huge difference in prices for the well pumps due to horsepower and the gallons per minute of the pump ends. All of the pumps that we install are professional grade pumps such as Goulds, Franklin Electric, Sta-Rite, Grundfos, etc. Pump prices can start at $500 and can exceed $1,000 depending on the current size pump that your well has. If you know the depth of your well or you know the size of the pump that is in your well we can give you an estimate on what the cost might be prior to coming out.
What should you do when your water well stops working?
First thing to do is to check and see what the pressure gauge is reading on the water (well) tank. If the gauge reads 0 – 20 psi then check the well or water pump breaker in the electrical box to see if the switch was tripped. If the breaker is tripped then the well pumps is bad or the wire shorted to ground. If the breaker is not tripped then you could have a broken wire or a bad pump motor. If the pressure gauge is reading 40+ psi you may have a blocked water filter (if you have one).
Does water well pump replacement come with a warranty?
All well pumps come with a manufacturer's warranty of 5 years from the date of install. If the well pump were to fail within the 5 years the well pump would be replaced at no cost but there would still a labor cost to replace the well pump. We do offer our customers the option to purchase a 5 year labor warranty from our company for a $100 so the labor would also be covered in the event that the pump needs to be replaced within those 5 years. Although we do not have many failures that arise within 5 years and therefore do not sell many labor warranties, but the option is still available to you.
Does Kocher's drill new wells and repair existing ones?
Yes. We drill new wells and Geothermal wells with an air rotary or cable tool (pounder) rig. Different areas require different methods to get the best well possible. We also repair old wells by cleaning them out. We do install well liners to prevent wells from collapsing or well casing from deteriorating. For wells that have low yielding gallons per minute (gpm) we will hydrofrack to increase the gallons per minute. Although hydrofracking is not a guarantee we have had a very high success rate.
What should I look for in a Well Drilling company in the Lehigh Valley?
You want to make sure that they are licensed in Pa, hold a Pa contractor license, and carry all the necessary insurances. Also, they should be able to provide you with references from previous customers if requested.
How is a water pump extracted from the well safely?
In order to attempt to remove a water pump from the well you need to know how deep the well is. If you don't know the depth of the well, DO NOT try to remove the pump yourself or with friends or family it should be left to the professionals. Some pumps can be pulled by hand, however it can be tricky and often we have received phone calls after a homeowner has dropped their pump down the well. In the long run costing the homeowner more money because they need to pay us to retrieve the old pump and then install a new one. Some pumps also need to be pulled with pump pullers if they are installed on coil pipe (hdpe) or need to be removed with a hoist (crane) truck when they are installed of straight lengths of 20' pipe. Trying to pull pumps yourself can be dangerous. Pumps can be very heavy when you add all the pipe, water in the pipe, and wire. Also all of the iron and manganese that could have deposited on the outside of the pipe can make it very slippery and tough to hold on to. Call a professional like Kocher's Water Pumps & Tanks, Inc. – we are worth the money spent!
What is well rehabilitation and why would someone need it?
Proudly Serving: Allentown, Bethlehem, Easton, the Poconos and the surrounding areas.
Drill Water Wells
Geothermal Loop Fields
Install, service & repair water pumps & tanks
Water softeners & all treatment systems
Residential and commercial service
Monitoring wells
Drill wells deeper
Well abondonments
Repair old wells
Pump test (flow test)
Water testing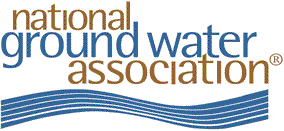 Kocher Well Drilling is a proud member of the National Ground Water Association. We've heard countless stories of well-intentioned homeowners fouling up their wells in an attempt to fix a problem. For instance, there's the gentleman who poured six gallons of bleach down his well to get rid of an odor in the water. After flushing thousands of gallons of water out of his well, the odor he was unable to eliminate was the bleach. Moreover, every time a well owner removes a well cap and attempts to service the well in some way, there's the potential to unwittingly introduce bacterial or other contamination into the well. This is why we encourage you to call the professionals first.